What I would do differently, A LITTER Later… Mama Kat's Writer's Workshop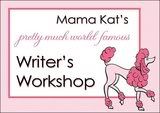 What you would do differently as a first time mom… a litter later.
I wish I cared less about (and spent less on!) what I dressed my infant/toddler in. Wait to spend that trivial money when they get older and actually have an opinion… and beg for the brand names.

If you do nothing else —

do not let

anyone make you feel badly about sticking to a nap schedule (for your infant/toddler). If you aren't already on one, I worshipped these two books exclusively and interwoven on our lives was practices from both (infants/toddlers):

Healthy Sleep Habits, Happy Child

, and

On Becoming Babywise: Giving Your Infant The Gift of Nighttime Sleep

Other adults, or moms with kids who aren't on any sort of schedule, JUST-DON'T-GET-IT.
They just don't get it. And, you know your infant/toddler better than anyone else. Coordinated sleep is a gift, a TRUE GIFT, you can give a child. It will set the stage not only for the rest of their day… but their week… their month… their year… their life.
Oh, and I forgot… if you keep your infant up an extra hour or

two

three just for all those people who told you to relax… WHO IS IT THAT winds up being up with infant for 4 hours during the night? WHO IS IT THAT has to pay the price with a belligerent child the next day for 12 hours? Having an infant stay up for an extra hour for no reason causes 12 hours of pain the next day — that the

mom

parent has to endure. NOT. WORTH. IT.

I wish I tidied the house less!

I wish I put a magnetic note pad on my fridge and wrote down the funny stuff that happened… funny phrases or ways the baby did things… quirks… hysterical babble that you and your spouse found yourself regurgitating to each other in public and realized you were total losers for talking like your baby TO each other!

Darn it. Why didn't they friggin' have FlipVideo when my kids were small? I would have whipped it out during the unplanned moments more… and not reserved videotaping for the big holidays.

Stop reading about "the best strollers" (and oozing in envy over getting them), and all the best "crap" for your baby (that you'll use for — at MOST — 8 months… go in debt over… and realize: "WHAT A WASTE!"

I would stop reading a thousand different opinions about the "best way" to feed your child, "the best discipline" to adhere to, "what your kid must know before preschool". I think we (I) turned out fabulously, and my mom JUST. WENT. WITH. HER. GUT.
It's a waste of time… now, that's not to say if you're struggling with a uncontrollable 3 year old, and everything you've tried isn't working, definitely look into books that have amazing reviews on Amazon, and have worked for others. The two books I used (and still use) and elevated the way we parented are:


Love and Logic Magic for Early Childhood: Practical Parenting from Birth to Six Years

, and

1-2-3 Magic: Effective Discipline for Children 2-12



Planned less. I got out of the house not NEARLY as well as I should have b/c I had to pack the diaper bag (which sometimes took hours!).

Don't stress out about nursing — especially being in exactly the right place at the right time exactly when you predict the baby will get up. 9 times outta 10 it won't work out the way you expect. Just jump into your car, pull the front seat back, whip it out, seal the deal, and move along with your day. If you're in the middle of shopping, ask the Customer Service desk to hold your basket of groceries until you get back. They'll do it.

DO NOT. I REPEAT DO NOT. WAKE A SLEEPING BABY.

Unless your Dr. says he/she isn't thriving and needs to gain weight

. I believe by letting "him go" when he was younger, my 4th child NOW (over the last few months) goes down for a nap at 2 pm (few days/week), and doesn't wake until 8 am the next day! He just turned 2 yesterday, and instead of freaking out about whether/not he was sleeping too much when he was younger, I am now grateful I took a chill pill.
(Meanwhile, admittedly, I don't know if I would have been able to practice what I'm preaching with my 1st! Their little bodies know what they need, and if you're Pediatrician agrees (as mine does), DO NOT WAKE A SLEEPING CHILD!)

Be careful what you wish for about "who they'll become". It may not be what you expect, or really want.

STOP TRYING TO BE SO PERFECT… and have them become so perfect. KEY, key, key!
PLEASE share your "What I would do differently's", please!!