She Said: "I Have No Idea…"
September 22, 2010 by Kat

Nine years — almost a DECADE ago (!!) — I was getting ready to marry my perfect fit.
You can take put the girl in a mature setting, but you can't take the immaturity out of the girl.
Dave, I REALLY do still love you the way I did back then…
On another note, ironically, as you know from my interview with Gayle King on Oprah Radio, we met online. We know expose our insane lives to you — not as candidly as I'd like too… still not brave enough — online, on Today's Cliche. Tomorrow, we head to Manhattan on an all-expense paid trip, to compete for a online cooking show and $10K.
Last night, we received the list of ingredients from which we have to choose. Oh, I was FREAKIN' out at first, but now know what we're making. Shewww-ee-freaking-doowweee.  I'm going to dart out to the grocery store and scoop up all my yummy crap, and do a run through with the hubs tonight.  What kinda pisses me off is that the other couple is newly married, and to my knowledge doesn't have any kids. "So what?", you ask. Well, we don't have the LUXURY of this being the "only thing" we focus on from when we received the list of ingredients last night, until we head out tomorrow. I mean — seriously? TO THINK back to having just 1 baby, or 2 babies, or just 3 kids… it's a freaking joke how much easier it was then. But NO KIDS? The time the other couple has to plan and practice is ridic. I have to still some how squeeze in full days at work, put away all the laundry, dishes, help with school work, get 'em to activities, meal prep for them, baths, clean up for my in-laws who are graciously watching the kids while we're gone. Every bit of me, however, knows that this is my life, and not only did I choose it… but frankly I love it.
But wait, I'm still so flippin confused — HOW have I been married almost 1/3 of my life?!?! How did that happen?
When we met, and even when we married, there was no such thing (that I was aware of) that had the word "blog" in it. Now look.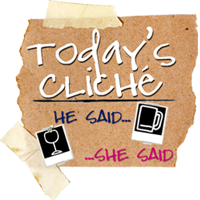 When we met, I always dreamt of giving birth to at least 4 children. Look how God has blessed us. We were definitely challenged trying to conceive our oldest; we were on Fertility and I have PCOS (Polycystic Ovarian Syndrome). How I was pregnant OR nursing for SEVEN (straight) OF THE 9 YEARS we've been married… I have no idea.
All I know is that Dave is my man. Although sometimes most of the time all the time too many time too often he pisses me off, He is the most giving, optimistic, loving, complimentary, humble, down-to-earth human being that I am proud to call my husband. I have no idea why he loves me as much as he does, or why he professes to be in love with me as much as he asserts.
As nauseating as it sounds, I fall more in love with him every day (insert watching all of you running to go barf in your trash can here).
Happy Almost Decade Anniversary, my disgustingly overbearingly hairy monkey.